Your Weekly IT Roundup 7 - 13 June 2021
Hey , it's here! Welcome to installment #35 of your Weekly IT Roundup, bringing you up-to-date on all the knowhow and the awesome group content you might've missed throughout the week!
Missed last week's installment? No problem - here it is on our blog.
Post of the Week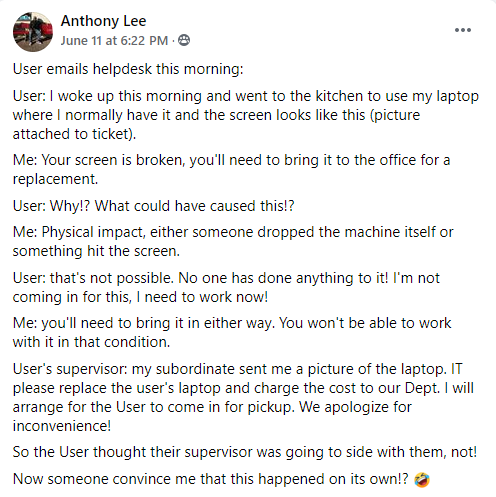 Hmm, we have a slight smidge of sense that this laptop screen probably didn't break itself... maybe it got infected with that screen-breaker virus spreading around recently
---
This week in Tech News (TL;DR)
Windows 11 leak reveals new UI, Start menu, and more
The next version of Windows has leaked online. Keep Reading
Amazon brings its cashierless tech to a full-size grocery store for the first time
The technology is arriving in its fourteenth US Amazon Fresh store.
Keep Reading
EA got hit by a data breach, and hackers are selling source code
780GB of data, possibly up for sale. Keep Reading
Google is using AI to design its next generation of AI chips more quickly than humans can
Designs that take humans months can be matched or beaten by AI in six hours. Keep Reading
---
Join us on Facebook live and YouTube for a Resume Roast!

Searching for a job is hard, but having a solid resume can help you stand out.

During this live session, we'll take a look at a few Anonymous Resumes from our group members and give constructive criticism on layout, wording and more!

If you've ever struggled to show off your professional experience your resume, drop by this session for some tips!Sign Up!Want us to Roast your Resume next time? Submit your Resume below and we may select yours at the next event! Submit my Resume
---
Meme of the Week!
---
This is an IT Support Group Jobs
One of the most targeted audience job platforms on the web.

Looking for a new job or have a job that needs experienced applicants?

You can sign up for our new IT Support Group Jobs page and join many other job seekers and employers already seeking the benefits, completely free of charge!

Just click the image above or click here!