Your Weekly IT Roundup 26 Apr - 2 May 2021
Hey , it's here! Welcome to installment #29 of your Weekly IT Roundup, bringing you up-to-date on all the knowhow and the awesome group content you might've missed throughout the week!
Missed last week's installment? No problem - here it is on our blog
Post of the Week
Awesome post from Brian this week, thanks for making me feel so old...
Your first computer! What was yours?
How long before the inevitable "Grandpa, you said 16 Gigabytes of RAM, don't you mean Petabytes? That wouldn't even run GTA XIV!"
Tetris, anyone? Check it out!
---
This week in Tech News (TL;DR)
Bill and Melinda Gates have announced they are ending their marriage after 27 years
They "no longer believe we can grow as a couple in the next phase of our lives". *Windows XP Shutdown Sound*. Keep Reading
The Royal Navy is testing using jet suits to fight high-seas piracy
It's the non-military uses that might be even more important.
Keep Reading
Verizon sells AOL and Yahoo for about half of what it paid
Purchased by the owner of the Venetian casino in Las Vegas.
Keep Reading
Amazon crosses $100 billion in sales in huge first quarter
It's predicting even bigger numbers for next quarter. Keep Reading
---
Meme of the Week!
---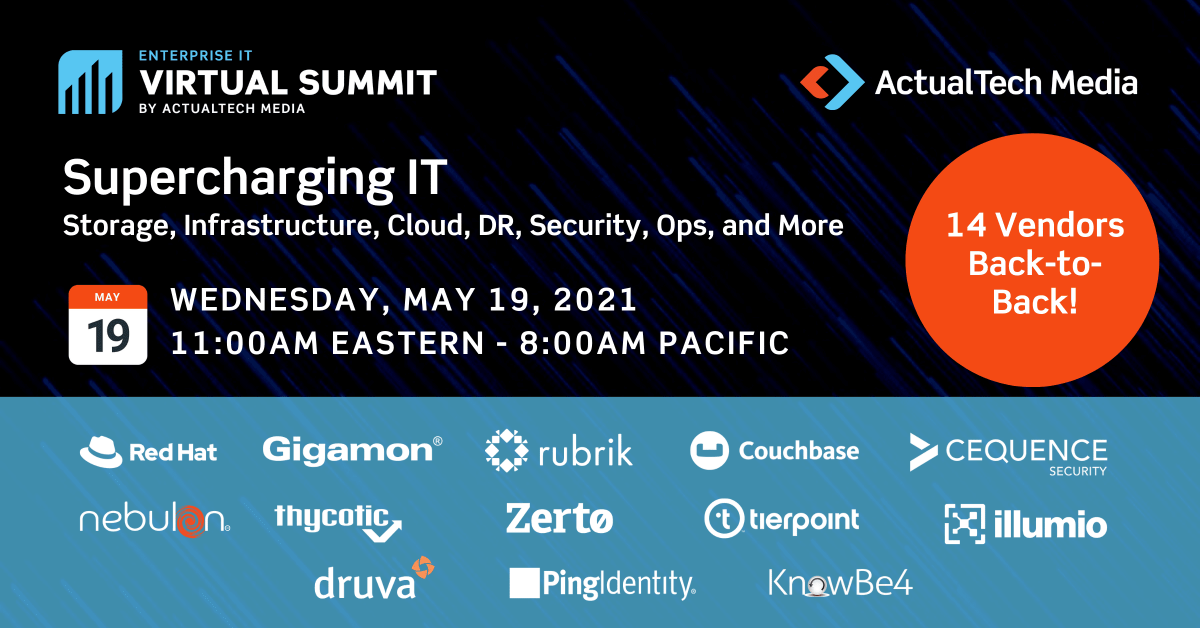 Are you short on the time but to still need to keep up with latest technologies in enterprise IT?

On Wednesday, May 19th, ActualTech Media is hosting a brand-new  "Supercharging IT" Virtual Summit.

What's in it for you:

14 enterprise IT vendors will be demonstrating back-to-back how their newest IT innovations can help you supercharge your organization's IT!

The vendor line up includes:

KnowBe4, Couchbase, Gigamon, Thycotic, Rubrik, Druva, Zerto, TierPoint, Illumio, Nebulon, Red Hat, Cequence, Ping Identity and More

Win a ton of great prizes including VR headsets, Playstation 5s, new iPad Airs, Unlocked Samsung Galaxy Note 20s and....

...30 (!) individual $500 Amazon gift cards - so many chances to win!

It's all happening online Wednesday, May 19th @ 11am Eastern (8am Pacific).

To register, Click Here or click the image above!
---
Network engineers are the backbone of today's digital world, but they feel like no one is listening to them.

The telecom industry is changing rapidly and most network engineers don't have time to keep up with all the changes. They need a newsletter that keeps them informed on what matters most in their day-to-day work lives.

NED was created by network engineers for network engineers, which makes it easy to find relevant content without having to go through piles of useless information or read long boring articles just to get an overview of what happened in your industry during the last week or so.

NED will save you precious time!
You'll be able to quickly scan through everything that happened and start your day with a fresh perspective on how things are going inside (and outside) networks around the globe.
Well... what are you waiting for? Hit the link, it's free!
Next release is out this Friday 7th!
---
Our new Jobs page has landed!

Looking for a new job or have a job that needs experienced applicants?

You can sign up for our new IT Support Group Jobs page, completely free of charge!

Just click the image above or click here!
---
Represent! #ITSupportHub
Shoutout to our member Philip Jackson rocking the #ITSupportHub tee, "Representing the group at universal today in my awesome tank!"

Grab yours today - https://drunkencomputer.com!

We don't recommend wearing it to work - we're not accepting liability for anyone that may become short of a job...