Your Weekly IT Roundup 22 - 28 Mar 2021
Hey , it's here! Welcome to installment #24 of your Weekly IT Roundup, bringing you up-to-date on all the knowhow and the awesome group content you might've missed throughout the week!
Missed last week's installment? No problem - here it is on our blog
Posts of the Week
Welcome to the group, Michael - congrats on post of the week! That's definitely a strong physical firewall if I've ever seen one! Check it out!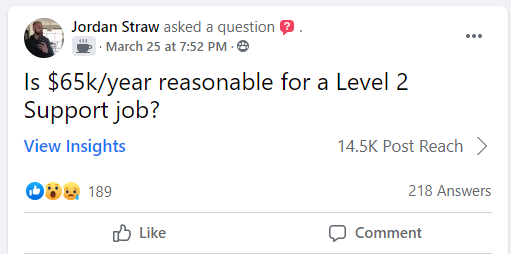 Check it out! We had a Salary question from Jordan earlier in the week, the group is a great place to get insights on salaries and thanks to everyone who contributed to this! Whilst on the topic, we just finished our Salary Survey 2021 last week. Thanks to the hundreds of you who contributed!

Keep an eye on your inboxes, we will be publishing the results very shortly!
This week in Tech News (TL;DR)
Whistleblower: Ubiquiti Breach "Catastrophic"
It has been reported that Ubiquiti have suffered a substantial breach of their systems. Keep Reading
CD Projekt Red is changing how it makes games after disastrous Cyberpunk 2077 launch
The studio outlined a number of ways it will be changing its development processes. Keep Reading
Google celebrates the unblocking of the Suez Canal with a small boat parade in search
Ever Given gets a Google tribute. Keep Reading
PayPal will let US users pay with Bitcoin, Ethereum, and Litecoin starting today
PayPal already allowed US users to buy and sell cryptocurrencies directly from their account. Keep Reading
A modder made a way to mine bitcoin on a Game Boy (very, very slowly)
It's roughly 125 trillion times slower than a dedicated mining machine. Keep Reading
Meme of the Week!
"While many of us are in the business of tech support, self-help is often necessary..."
---

MVP Growthfest 2021 is Here!
JOIN US AT MVP GROWTHFEST 2021 WITH WAYNE GRETZKY & MSP EXPERTS
Are you ready for explosive growth?

Now is the time to jump in with both feet and take advantage of the opportunity you'll find in the post-pandemic MSP landscape!

Let's kick off a new season of growth for your business at MVP Growthfest 2021 on April 20th from 12pm to 4:45pm ET.

This year's special guest is the legendary Wayne Gretzky! Learn his incredible perseverance secrets and tips to overcome challenges that stand in your way, as well as gain the knowledge to go the distance in your pursuit of success!

You'll also enjoy:
Expert help to improve your sales techniques and wow your clients.
Informative panels that will teach you how to find fresh opportunities.
Tips for impressing prospects that will open doors and close sales.
Plus, awesome giveaways including $15,000 in cash and prizes!

Don't miss this unique opportunity to learn success secrets from MSP sales and business All-Stars and gain wisdom from a legend who knows the power of endurance and spirit!
---
Our new Jobs page has landed!
Looking for a new job or have a job to share? You can sign up for our new IT Support Group Jobs page completely free of charge! Just click here!